PRESERVED BUSES & COACHES
FLEET No
Q 55
REG
BXD 576
MAKE
AEC
MODEL

Q type

YEAR
1935
BODY

Birmingham Railway Carriage & Wagon Works - 35 seat

OWNER
London Transport Museum, Acton Reserve Collection
HISTORY
Very innovative for the time, the Q vehicles had the engine on the off-side, behind the front wheel. Inside, a longitudinal bench seat was fitted over the engine cover. The engine turned an offset differential on the rear axle, which necessitated the use of single tyres at the rear.

This vehicle was one of 102 buses built for the country area during 1935-6. Originally at Swanley, it moved to Dorking during WWII for the 431 Sevenoaks route. In 1949 it was working the Green Line route 708 from Victoria to East Grinstead. Withdrawn from service in 1953, it was transferred to the London Transport Museum. In 2000 it was moved to the Reserve Collection at Acton.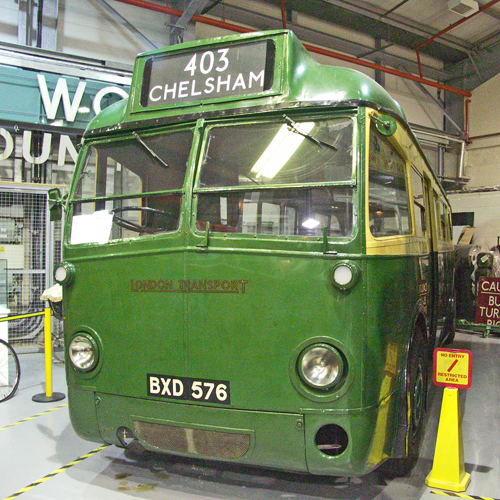 | | |
| --- | --- |
| Above photo taken at: | London Transport Museum Reserve Collection, Acton. |
| Taken on: | 7th March 2009 |
Photographs © Mike Smith 2012
None to be reproduced elsewhere without permission
mjs@onlineweb.com