PRESERVED BUSES & COACHES
FLEET No
RF 168
REG
MLL 555
MAKE
AEC Regent IV
MODEL

RF

YEAR
1952
BODY

Metro Cammell

OWNER
P Friend, Heathfield, Sussex.
HISTORY
The RF was the standard single decker London bus during the 1950s and 1960s. It is a 30ft long, high-floor vehicle with a centrally mounted engine fitted underneath. The chassis is an AEC Regent IV, hence the code RF (Regent Four), and the body is by Metro Cammell, seating 41. A prototype was tried out on the country area 355 route from St Albans, and was successful. Production and delivery began in 1952. This class was used extensively on central (red) suburban routes, in the London Transport country (green) areas, and Green Line coach routes.

RF 168 was one of the Green Line coaches, entering service from Luton in 1952. In 1967, along with the other Green Line RFs, 168 was modernised to update them for further service. The new livery included the broad lime green band at waist level (with the window surrounds in dark green rather than the earlier pale green). The body was fitted with twin headlights - very fashionable at the time - to give a more modern appearance, and new indicators were fitted front and back. Inside, fluorescent lighting replaced the original bulbs. In 1970 the Green Line fleet transferred to the new London Country Bus Company, where she continued service until sold for preservation in 1977. She remains with the "modernised" appearance.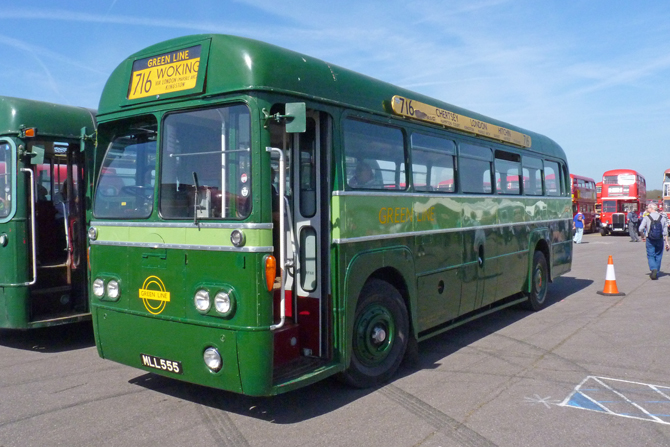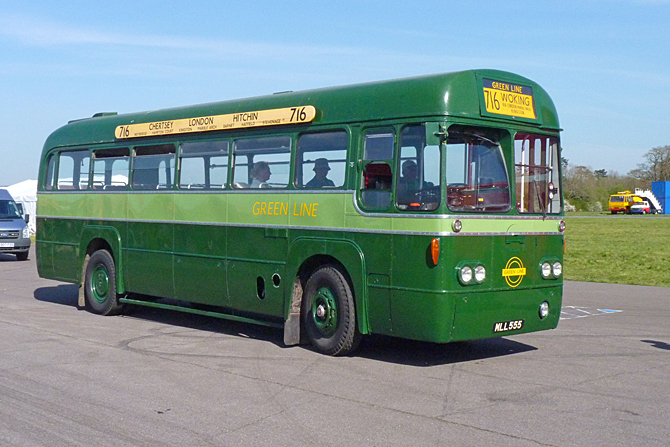 | | |
| --- | --- |
| Above photos taken at: | Cobham London Bus Museum Spring Gathering at Dunsfold Aerodrome, Surrey. |
| Taken on: | 10th April 2011 |
Photographs © Mike Smith 2011
None to be reproduced elsewhere without permission
mjs@onlineweb.com