PRESERVED BUSES & COACHES
FLEET No
RF 19
REG
LUC 219
MAKE
AEC Regent IV
MODEL

RF

YEAR
1951
BODY

Metro Cammell

OWNER
Colin Curtis
HISTORY
The RF was the standard single decker London bus during the 1950s and 1960s. It is a 30ft long, high-floor vehicle with a centrally mounted engine fitted underneath. The chassis is an AEC Regent IV, hence the code RF (Regent Four), and the body is by Metro Cammell, seating 41. A prototype was tried out on the country area 355 route from St Albans, and was successful. Production and delivery began in 1952. This class was used extensively on central (red) suburban routes, in the London Transport country (green) areas, and Green Line coach routes.

RF 19 was one of 25 vehicles delivered in 1951 for private hire work. They were 27' 6" long (standard RFs are 30' long), and were fitted with cant roof observation panels. The anticipated private hire and site-seeing work did not materialise to the anticipated levels, and many were put to normal bus use, or were converted to Green Line coaches. The whole 25 were sold off in 1963 to various operators.

In preservation this vehicle carries original Green Line livery (pale green window lining), although wear around the door and front lower panel, indicates that the vehicle was previously painted red.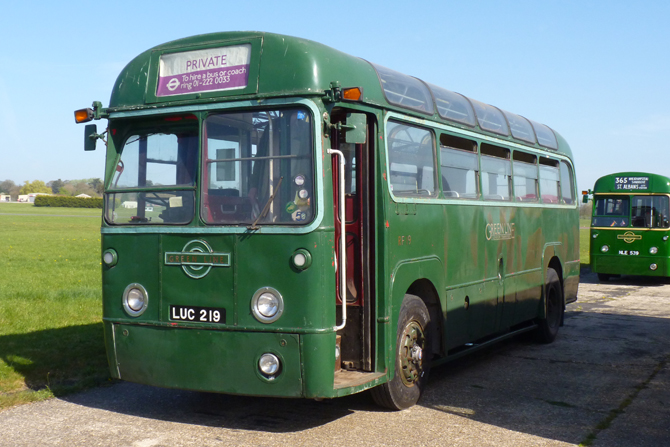 | | |
| --- | --- |
| Above photo taken at: | Cobham London Bus Museum Spring Gathering at Dunsfold Aerodrome, Surrey. |
| Taken on: | 10th April 2011 |
Photographs © Mike Smith 2011
None to be reproduced elsewhere without permission
mjs@onlineweb.com