PRESERVED BUSES & COACHES
FLEET No
RM 1005
REG
5 CLT
MAKE
AEC Regent V
MODEL

Routemaster

YEAR
1962
BODY

Park Royal

OWNER
P Hendy of Bath
HISTORY
The London Routemaster is the iconic London double decker bus. The prototype was built in 1954, and full production began in 1958, continuing until 1968. It was designed to replace the previous RT series buses, and the London trollybuses. The chassis and engine were by AEC for most Routemasters, but some were manufactured by Leyland. The Leyland versions however, had no visible external differences from the AECs. The Routemaster was the last bus designed by London Transport. When Routemaster replacements were introduced in the 1970s, standard production models were purchased from various manufacturers.

The Routemaster, with half cab and rear platform entrance, was designed for two-person operation, and was under threat from the 1970s when front-entranced, one-man-operation buses were introduced to central London. Nevertheless, Routemasters saw continuous service in London until 2005, and they remain on two heritage routes (9 and 15) in central London. It is estimated that there are some 1,000 Routemasters of the 2,876 built still in existence.

RM 1005 was new in 1962 at Highgate garage. After service from various garages, the vehicle was withdrawn in 1994. The bus remained in store until 1998 when she was sold into private ownership. In 2000 Marshalls of Cambridge fitted a new Cummins engine, and refurbished the bodywork. From 2001 to 2005 she was used by Sovereign London for route 13. Following that she was back in storage until 2007. In that year she was purchased by P Hendy of Bath, and during 2009 and 2010 was loaned to First London for route 9.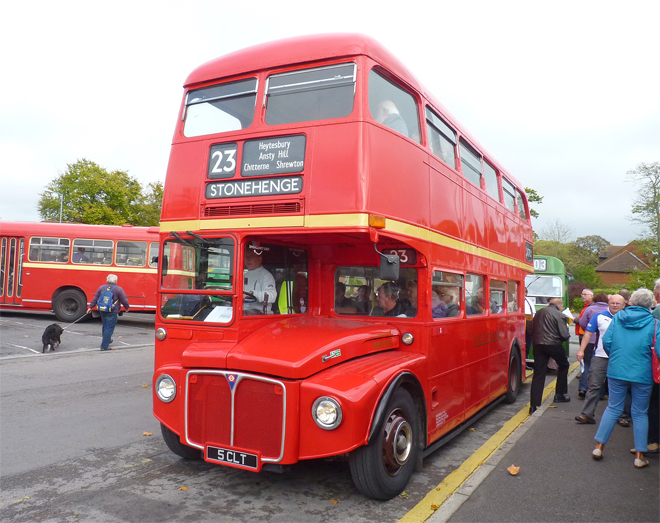 Special blinds are in use for the local rally day services.
| | |
| --- | --- |
| Above photo taken at: | Warminster Annual Bus Running Day. |
| Date: | 9th October 2011 |
Photographs © Mike Smith 2011
None to be reproduced elsewhere without permission
mjs@onlineweb.com