PRESERVED BUSES & COACHES
FLEET No
RM 1872
REG
ALD 872B
MAKE
LEYLAND (now Scania engined)
MODEL

Routemaster

YEAR
1964
BODY

Park Royal H36/28R

OWNER

South Devon Railway Trust

HISTORY
RM 1872 was delivered in March 1964 to Aldenham with a Leyland 0600 engine. Originally allocated to Edmonton garage, she was transferred to Upton park for Route 15 duties in April 1964. In July 1967 she was transferred to Hornchurch garage for use on Route 165, returning to Aldenham in September 1967 for overhaul. The vehicle operated from Tottenham from September 1968. In 1990 the vehicle was fitted with an Iveco engine, and by 1995 was working route 159 out of Brixton. She was repainted red and yellow in 1997 before transferring to Arriva South London and losing the yellow band. In June 2001 she was refurbished at Enfield and three months later received a new Scania engine. Her final route was the 137. She was withdrawn from service and sold to Ensign in August 2004.

The London Group of the South Devon Railway Association raised an appeal in 2004 to buy one of London's last Routemaster buses for use by the South Devon Railway on its Vintage bus service and successfully purchased RM1872, one of the "Ensign 32", in December 2004.

RM 1872 now operates between Buckfastleigh SDR Station, Buckfast Abbey and Buckfastleigh Town Centre on the days that the railway operates.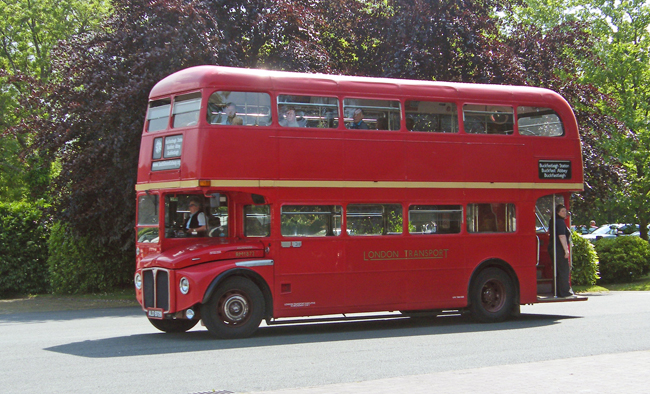 | | |
| --- | --- |
| Above photo taken at: | Buckfastleigh, Devon. |
| Taken on: | 14th June 2010 (Photo courtesy of Cathy Whitehead) |
See another photo of RM 1872 here.
Photographs © Mike Smith 2010
None to be reproduced elsewhere without permission
mjs@onlineweb.com