PRESERVED BUSES & COACHES
FLEET No
RML 3
REG
SLT 58
MAKE
LEYLAND
MODEL

Routemaster

YEAR
1958
BODY

Weymann

OWNER
London Bus Museum, Brooklands
HISTORY

Between 1954 and 1958, London Transport ordered four prototype Routemasters for testing prior to production. Two of the prototypes were fitted with Leyland mechanical units, and one (RML 3) had a body built by Weymann. Given the prefix RML (L for Leyland, as used on RTL buses), RML 3 entered service in January 1958 at Willesden garage. After just 18 months, along with two of the other prototypes, it was withdrawn from passenger service, and used for driver training.

The use of the "L" for Leyland in prefixes was dropped in 1961, and Leyland engined Routemasters were given RM prefixes along with the AEC vehicles. The prefix RML was then used for the long version Routemasters.

During overhaul in 1965, the experimental panels around the engine compartment were replaced with those of the standard production design. It continued in use for training until 1972 and was brought to the London Bus Museum in 1974. The original front design was reinstated by the London Bus Museum during 2003/4. None of the original parts survived, and there were no drawings, so all parts were made from scratch using photographs which were taken during accident damage repair in 1959.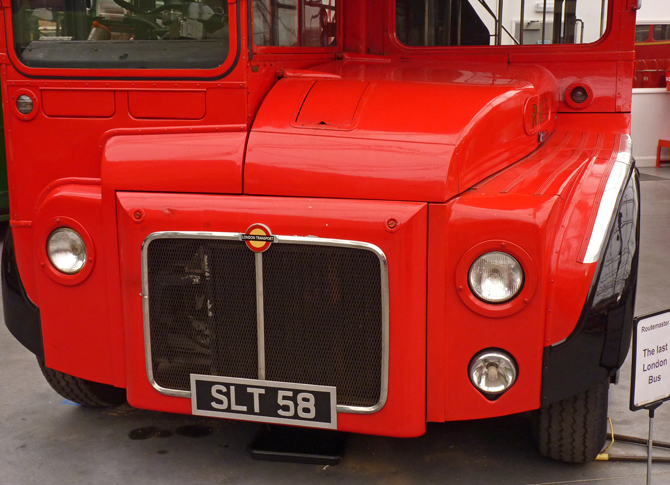 Close up of the front panels of RML 3
| | |
| --- | --- |
| Above photos taken at: | London Bus Museum, Brooklands |
| Taken on: | 26th February 2012 |
Photographs © Mike Smith 2012
None to be reproduced elsewhere without permission
mjs@onlineweb.com