PRESERVED BUSES & COACHES
FLEET No
RT 604
REG
HLX 421
MAKE
AEC
MODEL

RT

YEAR
1948
BODY

Weymann

OWNER
Purley Transport Preservation Group, Surrey.
HISTORY
The RT standard London Transport bus was introduced in 1946. There had been a small number built to a slightly different design from 1939, but the war stopped production. The early RTs had a route number box on the roof, but this was replaced by a three-piece display between the front windows for the vast majority of RTs. The chassis was an AEC Regent III, hence the code RT (Regent Three). Bodies were mostly built by Park Royal and Weymann, but some were supplied by Craven (120) and Saunders (300). They had 56 seats, 26 lower, 30 upper.

RT 604 was delivered new in 1948 to the LT country area at Tring in Hertfordshire, with a roof box body. During overhaul in 1956, she was filled with a standard Weymann body. The vehicle remained on country service north of the Thames, until 1970 when she was transferred to London Country, where she served south of the Thames as well. In 1977 she received the National Bus Company "leaf" green livery, which is retained in preservation - it is thought that only three RTs were painted in this colour. RT 604 has the distinction of being the last RT in service with London Country, working on route 403 out of Chelsham Garage, in 1978. She was sold for preservation in 1980, and was bought by the present owners in 1991. She has been active on running days and at shows since 2003.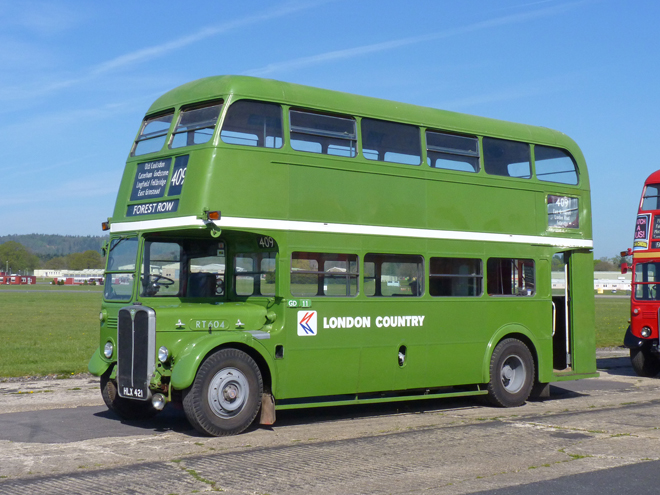 RT 604 in National Bus Company "leaf" green livery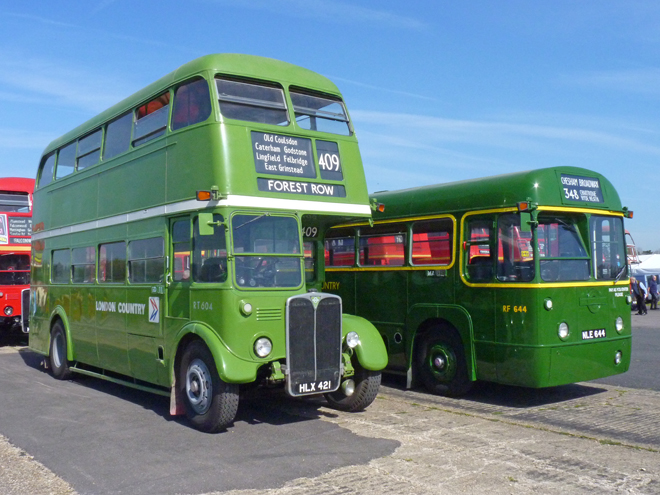 The "leaf" green NBC livery on RT 604 compared with the darker LT green on the RF next to it.
RT 604 would have carried the darker colour from new to 1977.
| | |
| --- | --- |
| Above photos taken at: | Cobham London Bus Museum Spring Gathering at Dunsfold Aerodrome, Surrey. |
| Taken: | 10th April 2011 |
Photographs © Mike Smith 2011
None to be reproduced elsewhere without permission
mjs@onlineweb.com