PRESERVED BUSES & COACHES
FLEET No
STL 2692
REG
HGC 225
MAKE
AEC
MODEL

STL

YEAR
1946
BODY
LT Chiswick
OWNER
C Wickens, Walderslade, Kent
HISTORY
The STL (Short Type Lengthened) began production in 1932 and continued until the outbreak of war in 1939. The STL became somewhat of a standard LT bus prior to the arrival of the RTs.

This particular bus (STL 2692), however is one of a small batch of 20 that were acquired in 1946. After the war the LT Country Area was in urgent need of replacing its old STs. Not being first in the queue for RTs, they found an interim solution by purchasing some standard Weymann bodied AEC Regent IIs, with diesel engines and crash gearboxes. They were designated as STLs and numbered in the range 2682-2701. In May 1955, once sufficient RTs were available, these comparatively new STLs were sold on to appreciative municipalities: Widnes had 4, Grimsby 6 and Dundee 10. This vehicle (STL 2692) saw service in Grimsby before being sold into preservation in 1968.

The STL history was obtained from the Ian Smith website: click here to view.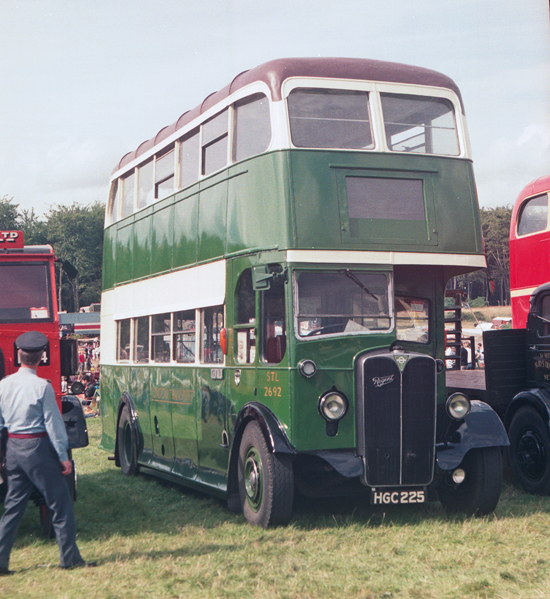 | | |
| --- | --- |
| Above photo taken at: | Steam & Vintage Vehicle Rally, Rushmoor Arena, Aldershot, Hants. |
| Taken: | Summer 1988 |
Photographs © Mike Smith 2010
None to be reproduced elsewhere without permission
mjs@onlineweb.com