PRESERVED BUSES & COACHES
REG
OKP 980
MAKE
LEYLAND
MODEL
TD4 Beadle Rebuild
YEAR
1952
BODY
J. C. Beadle FC35C
OWNER
Thornes Independent Ltd
HISTORY
In the immediate post-war years, with the half-cab design considered somewhat dated, J.C.Beadle, bodybuilders of Dartford, came up with a novel scheme for extending the lives of pre-war single deck vehicles. The process involved integrating a new full-fronted body to pre-war Leyland running units. One batch of 20 (30 foot) long vehicles were built, being delivered March and June 1952; with a second batch of 50 (26 foot) models delivered between January 1953 and February 1954. The construction involved combining the new integral body with front and front and rear sub-frames cut from the two ends of the original chassis, retaining the engine and all major systems. These conversions were universally known as the 'Beadle Rebuilds'. Despite the age of their original chassis and engines, such vehicles were common in the South East England up to the mid 1960s, as fleets of them were purchased by Southdown, Maidstone & District and East Kent. In most cases operators donated the running gear from their own older vehicles, but sometimes others were purchased for the purpose.

This vehicle was delivered to Maidstone & District in 1952 for express services between Kent and London. It was sold to Thornes in 1960 and has been owned by them ever since. The vehicle continued in service until 1971 when it suffered a major engine failure. The bus was withdrawn and kept in open storage. In 2000, a major restoration was undertaken by Preston Bus on behalf of the owners, including the fitment of a brand new Leyland E181 engine which was discovered in a packing case where it had been stored since being refurbished by the MOD in 1947. The vehicle returned to the road in its current condition in 2006. This vehicle is one of only four survivors from 209 "Beadle Rebuilds", and is the only Maidstone and District example. See also MUF 448.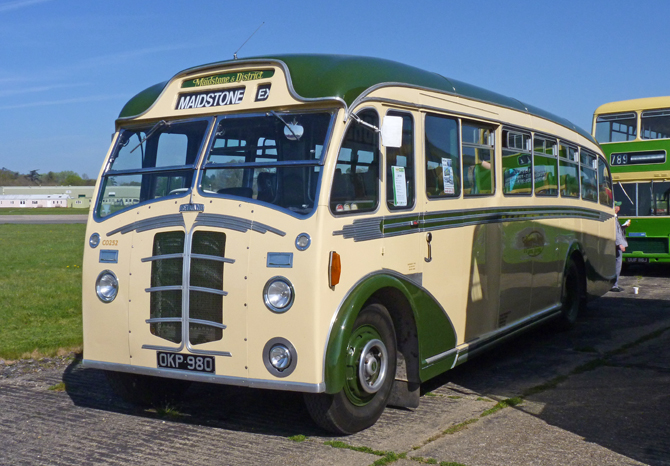 | | |
| --- | --- |
| Above photo taken at: | Cobham London Bus Museum Spring Gathering at Dunsfold Aerodrome, Surrey. |
| Date: | 10th April 2011 |
Photographs © Mike Smith 2011
None to be reproduced elsewhere without permission
mjs@onlineweb.com